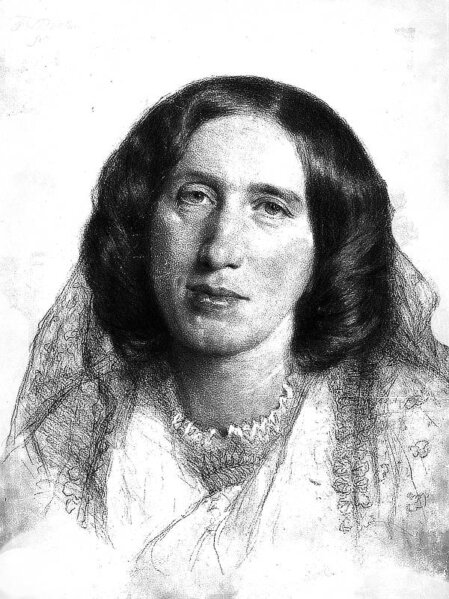 George Eliot (pseudonym for Mary Ann Evans) (22. november 1819 i Nuneaton i Warwickshire, England – 22. december 1880 i Chelsea, London), var en engelsk forfatter. Hendes produktion er titelmæssigt ikke så omfattende, men næsten alle hendes romaner – måske undtagen Silas Marner og de tre anonymt udgivne debutfortællinger i Scenes of Clerical Life – er af et nærmest monumentalt omfang.
Hun var stærkt begavet og studerede blandt andet litteratur, teologi og filosofi, lærte sig tysk, italiensk, græsk og latin og oversatte adskillige filosofiske og teologiske værker.
Læs mere om George Eliot i
Wikipedia
(engelsk).
ISBN 978-87-7979-633-1

Romanen om livet på landet i Englands Midlands-område omkring år 1800, om kærlighed og forførelse, religiøse strømninger og klasseforskelle, mens den industrielle revolution lurer i kulissen.
ISBN 978-87-7979-730-7

Til dels humoristisk fortælling om en velmenende lille præstemand med en anderledes tilgang til sit virke end forgængeren. Og det er jo altid noget man skal passe på med i små provinssamfund …
ISBN 978-87-7979-552-5

David Faux snyder sin broder Jacob for en arv og forsvinder.
ISBN 978-87-7979-635-5

En lille gotisk klassiker om kærlighed, had og fremsynethed.
ISBN 978-87-7979-808-3

Esther Lyon bliver attrået af to mænd, den rige godsejer Harold Transome og den fattige urmager Felix Holt.
ISBN 978-87-7979-732-1

Roman om druk og hustruvold i det mandsdominerede England i midten af 1800-tallet
ISBN 978-87-7979-908-0

Med den romantiske Dorothea Brooke og den ærgerrige læge Tertius Lydgate som omdrejningspunkter skildres livet og døden og en hel del andet i en engelsk provinsby omkring 1830.
ISBN 978-87-7979-731-4

I præsten Maynard Gilfils hus findes et aflåset værelse, som kun bliver åbnet én gang om året. Det indeholder minder om en italiensk pige, som en kort tid var mr. Gilfils hustru.
ISBN 978-87-7979-729-1

Roman om en ung pige, Maggie Tulliver, som vokser op i sin faders mølle ved floden Floss, og udvikler sig til en sær og kærlighedssøgende kvinde, som er ganske anderledes end sine omgivelser, hvis liv er had og misundelse.
ISBN 978-87-7979-710-9

Historisk roman, som foregår i 1400-tallets Firenze.
ISBN 978-87-7979-634-8

Den sære væver i Raveloe mister sin formue, men får noget bedre, da han finder den lille, forældreløse Eppie.