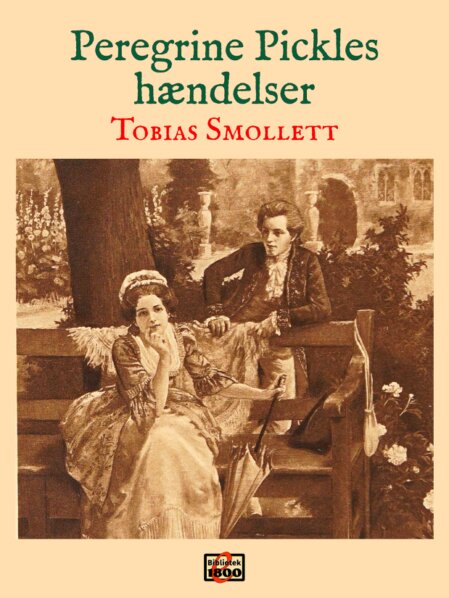 Tobias Smollett: Peregrine Pickles hændelser

Peregrine Pickle bliver lagt for had af sin moder (hun foretrækker hans ækle lillebroder, der har taget ved lære af sin moder og hader Peregrine lige så meget), og bliver ignoreret af sin fader (som er under tøflen). I stedet bliver han opdraget hos en gammel orlogskaptajn, Hawser Trunnion, der bor i sit "fort" sammen med en del gamle kammerater fra tiden i flåden. Peregrine vokser således op under opsyn af den ikke alt for smarte lærer mr. Jolter og med kaptajn Trunnions to gamle skibsfæller Tom Pipes og Jack Hatchway som en slags "håndgangne mænd". Han udvikler efterhånden en høj grad af selvbevidsthed og endnu højere moralske standarder – grænsende til stædig idioti –, men han er også meget hengiven til grove "practical jokes".
Efter et tilfældigt møde forelsker han sig vildt og inderligt i den smukke, men kompromisløse Emilia Gauntlet, men trods denne voldsomme forelskelse er hans moralske standarder ikke mere faste, end at han, så snart hun ikke lige er i nærheden, straks går på damejagt i både ind- og udland.
Peregrines liv og oplevelser i Oxford, London, Frankrig og Belgien, hans elskovshistorier, økonomiske ruin og deraf følgende ophold i gældsfængsel, samt alle de mere eller mindre sære personager, han støder på undervejs, danner tilsammen bagtæppet for forfatterens satiriske udfald mod menneskenes generelle ondskab, tåbelighed og grådighed.
"Peregrine Pickles hændelser" er i original et meget omfattende og vildtvoksende værk med masser af sidehistorier og en indlagt biografi af "a Lady of Quality". Oversætteren Frederik Winkel Horn har i denne forkortede version skåret historien til, så den koncentrerer sig om den centrale person, den unge Peregrine Pickle, og hans meriter.
Pris: 60.–
---
ISBN 978-87-7979-681-2 – Format: epub 3 – Tilgængelig fra 11. april 2020.