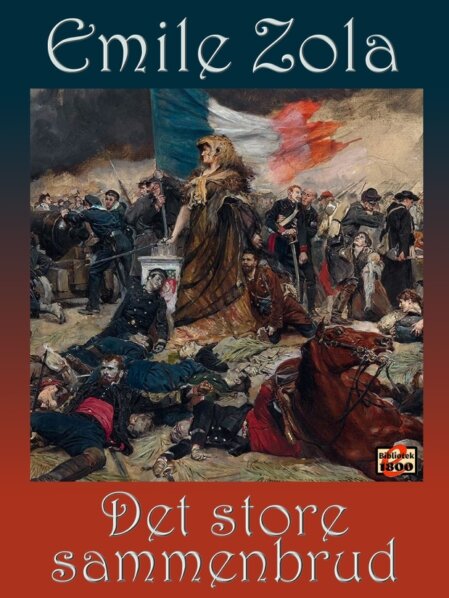 Émile Zola: Det store sammenbrud

Les Rougon-Macquart 19
Med Det store sammenbrud når vi enden af Frankrigs Andet Kejserdømme, hvis opståen Zola skildrede i Familien Rougon:
Jean Macquart har efter at have mistet sin hustru og sin gård (se bind 18: Jord) sluttet sig til den franske hær som korporal, netop som Prøjsen har erklæret Frankrig krig i sommeren 1870. I hæren møder han den unge, livlige student Maurice Levasseur, hvis liv hidtil nærmest har været en sorgløs leg. Umiddelbart hader disse to modsætninger hinanden, men som begivenhederne skrider frem, tvinges de til at forstå hinanden, og der opstår efterhånden et dybt og ubrydeligt venskab mellem dem – et venskab, der trods adskillelser og modsætninger er den bærende tråd gennem hele romanen.
Bogens første del følger Jean og hans lille afdeling under de franske troppers formålsløse og forvirrede marcheren omkring, uden forsyninger og ledet af stadigt skiftende generaler og en vægelsindet og døende Napoleon III. Anden del er en monumental skildring af det afgørende slag ved Sedan, der endte med Napoleon III.s overgivelse til Bismarck og Wilhelm af Prøjsen, og tredje del er efterspillet, hvor tyskerne omdanner en halvø i nærheden af Sedan til en gigantisk fangelejr, hvor hundredtusinder af soldater frister livet, mens de venter på at blive interneret i Tyskland, og frem til Pariserkommunens fald i maj 1871, hvor tyskerne ser til fra sidelinjen, mens Thiers' monarkistisk-sindede tropper belejrer og underkuer kommunardernes anarkistiske Paris, og selve byen står i flammer.
Det store sammenbrud hører blandt verdenslitteraturens store krigsromaner – anderledes end, men i samme klasse som værker som Tolstojs Krig og Fred, Stephen Cranes Modets røde kokarde, og Erich Maria Remarques Intet nyt fra Vestfronten, for blot at nævne nogle enkelte – på ét plan en stærk og dybt bevægende fortælling om et venskab, men også en velunderbygget og til tider næsten journalistisk skildring af de begivenheder, der – med Zolas ord i romanen – var "mordet på en hel nation".
Pris: 67.50
---
ISBN 978-87-7979-591-4 – Format: epub 3 – Tilgængelig fra 7. maj 2018.